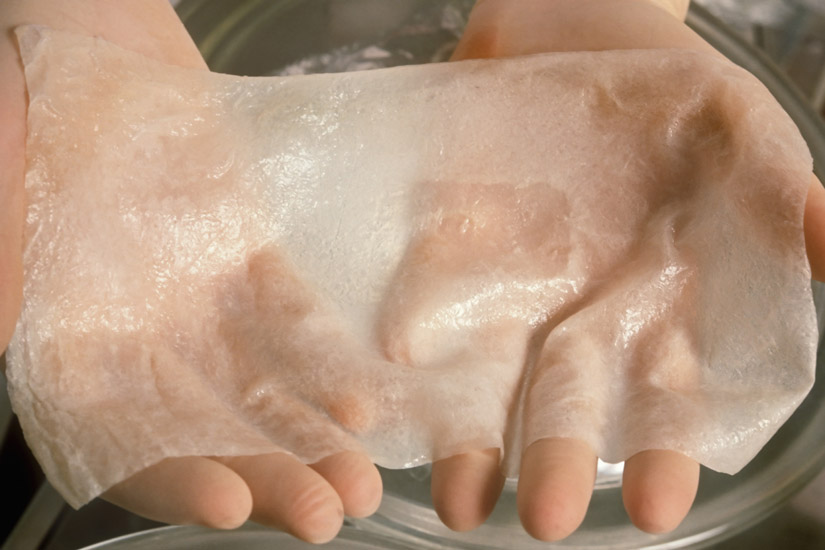 The skin is a complex organ that is difficult to replace when it is irreversibly damaged by burns, trauma or disease. These are now a number of commercially available. Skin is our body largest organ. Skin serve as a external barrier that protects unwanted substances from entering the body. Skin have three layers; epidermis, dermis, and hypodermis.
In the united states maximum 12,000 deaths annually are caused by thermal injury. Major contributors to mortality immediately following severe burn trauma are excessive fluid loss and rampant infection. It's failure to achieve skin coverage within three to seven days increase the risk of death.
Since one of the main challenges in treating acute burn injuries is preventing infection, early excising of the eschar and covering of the wound becomes critical. Non-viable tissue is removed by initial aggressive surgical debridement. Many surgical options for covering the wound bed have been described, although split-thickness skin grafts remain the standard for the rapid and permanent closure of full-thickness burns.
Significant advances made in the past decades have greatly improved burns patient care, as such that major future improvements in survival rates seem to be more difficult. Research into stem cells, grafting, biomarkers, inflammation control, and rehabilitation will continue to improve individualized care and create new treatment options for these patients.
Engineering of biologic skin substitutes has progressed over time from individual applications of skin cells, or biopolymer scaffolds, to combinations of cells and scaffolds for treatment, healing, and closure of acute and chronic skin wounds. Skin substitutes may be categorized into three groups: acellular scaffolds, temporary substitutes containing allogeneic skin cells, and permanent substitutes containing autologous skin cells.
According to new research if artificial grafting is used from buffalo and cows is a cheap grafting procedure now a days research is going on this method in Pakistan in Lahore. So modern technique can prevents lives which oocur due to burns